At their core, hashtags are keywords or phrases preceded by the pound (#) symbol. They serve as metadata tags, categorizing content and enabling easy content discovery on social media platforms. When you add a hashtag to your post, it becomes part of a larger, ongoing conversation revolving around that specific topic or theme.
On our post before, we have shared to you about the power of email marketing https://td1303.com/the-power-of-email-marketing/. Today, we want to share about 'Hashtags'. Let's go!
 Hashtag Purpose and Function: The primary purpose of hashtags is to increase the visibility and reach of your content. By using relevant and popular hashtags, your posts become discoverable to a broader audience beyond your immediate followers. Hashtags break down barriers and connect users who share common interests, making it easier for individuals and brands to find like-minded individuals or target audiences.
Origins of Hashtags: The hashtag's journey began on Twitter in 2007 when Chris Messina, a user of the platform, suggested using the pound symbol to group similar tweets. Despite initial skepticism, the idea quickly gained traction and became a central feature on Twitter. Other social media platforms, such as Instagram, Facebook, and LinkedIn, soon followed suit, adopting hashtags as an integral part of their user experience.
Hashtags and Social Media Platforms: Each social media platform has its own rules and practices when it comes to hashtags. On Twitter, hashtags are widely used to categorize tweets and participate in trending discussions. Instagram relies heavily on hashtags to discover new content, and posts with relevant hashtags tend to perform better. Facebook and LinkedIn also support hashtags, but their usage may vary.
---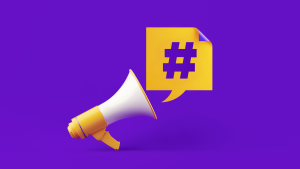 The Role of Hashtags in Social Media Strategy includes:
1. Boosting Your Social Media Strategy
When users search for or click on a hashtag, they're instantly exposed to a stream of posts and discussions revolving around that specific topic. By utilizing the right hashtags, your content can break through the noise and reach a wider audience. As a result, your social media strategy gains an edge, enabling your content to extend its reach beyond your immediate follower base.
2. Categorizing Content and Facilitating Discovery
When you apply relevant hashtags to your posts, you align your content with specific themes, topics, or industry niches. This categorization fosters a sense of organization. By strategically employing hashtags that align with your content's focus, you can effectively target niche communities, increasing the chances of attracting engaged and like-minded followers.
3. Increasing Reach and Engagement
When users engage with a hashtag by liking, sharing, or commenting on posts, the content gains momentum and visibility. Trending hashtags, in particular, open doors to massive audiences, offering a chance for your content to go viral and reach an even broader segment of users.
---

Understanding Hashtag Research
Hashtags can be a powerful ally in your social media strategy, but their impact hinges on using the right ones. Proper hashtag research is the key to unlocking the full potential of these digital signifiers. In this section, we'll dive into the art of hashtag research and provide valuable insights on finding the most relevant and effective hashtags for your content.
1. The Importance of Thorough Hashtag Research
Conducting thorough hashtag research is akin to exploring a treasure trove of opportunities. Blindly selecting hashtags without understanding their relevance or popularity can lead to missed opportunities and limited reach. By investing time and effort in research, you can identify hashtags that align perfectly with your content, target audience, and overall social media strategy.
2. Finding Relevant and Trending Hashtags
Start your hashtag research by brainstorming keywords related to your content, industry, or target audience. Then, explore each keyword on various social media platforms to identify popular and trending hashtags associated with those topics. Utilize the platform's search functionality and explore the "Explore" or "Discover" sections to stay updated on current trends and conversations.
3. Tools and Techniques for Effective Hashtag Research
Numerous tools and techniques exist to streamline your hashtag research process. Online tools like Hashtagify, RiteTag, and Keyhole provide valuable insights into hashtag performance, popularity, and related hashtags. These tools can help you discover trending hashtags, gauge their reach, and ensure you're using the most impactful ones for your content.
---

Here we show you what are the 'Hashtags Do's and Don'ts'.
Do's:
1. Research and Use Relevant Hashtags
Invest time in hashtag research to identify relevant and trending hashtags that align with your content and target audience. Using well-chosen hashtags enhances your content's discoverability and ensures it reaches the right audience.
2. Create Branded Hashtags
Develop unique hashtags for your brand or specific campaigns. Branded hashtags foster a sense of community and encourage user-generated content, strengthening your brand's identity and loyalty.
3.Mix Popular and Niche Hashtags
Strike a balance between using popular hashtags with broad reach and niche-specific hashtags to target your ideal audience. This combination maximizes exposure while maintaining authenticity.
Track Hashtag Performance
Monitor the performance of your hashtags using social media analytics tools. Analyze which hashtags drive the most engagement and adjust your strategy accordingly.
Don'ts:
1. Use Irrelevant Hashtags
Avoid using hashtags that have no relation to your content. Misleading or irrelevant hashtags can irritate users and damage your brand's credibility.
2. Overuse Hashtags
While it's crucial to use hashtags, using too many can clutter your posts and make them less appealing. Stick to a moderate number of hashtags that enhance your content without overwhelming it.
3. Neglect Research and Trends
Failing to research hashtags or ignoring trending topics means missed opportunities to connect with a larger audience. Stay informed and adapt your hashtag strategy accordingly.
4. Use Lengthy or Complex Hashtags
Keep your hashtags concise and easy to remember. Lengthy or complex hashtags can deter users from engaging with your content.
---
Conclusion
In the fast-paced world of social media, hashtags have emerged as a force to be reckoned with. These seemingly simple symbols hold the key to unlocking a wealth of opportunities for brands, businesses, and content creators alike. Throughout this comprehensive guide, we've explored the power of hashtags and their pivotal role in shaping effective social media strategies.
As you navigate the hashtag landscape, keep in mind the do's and don'ts we've outlined. Use hashtags wisely, targeting your audience and adding value to your content without overwhelming it. Avoid misusing hashtags, as they can alienate users and detract from your brand's authenticity.
Finally, don't forget to track the performance of your hashtags and adapt your strategy based on insights gained. Social media is a dynamic realm, and staying adaptable is key to success.
By unlocking the hashtag potential, you open doors to a world of endless possibilities – from expanding your reach to sparking viral trends and establishing your brand's online presence. Embrace the art of hashtags, and let them guide you on your journey to social media success.
So, are you ready to harness the true power of hashtags? The digital landscape awaits your unique voice, and hashtags will serve as your megaphone to amplify it. Go forth, connect, engage, and watch your social media strategy flourish like never before.
Read more on our social media.